Robert Evans: The Kid Stays in the Picture (Morgen/Burstein, 2002) DVDRip VE
Publicado: 17 Nov 2020, 01:30
ROBERT EVANS
The Kid Stays in the Picture (Brett Morgen, Nanette Burstein, 2002)
El chico que conquistó Hollywood - DVDRip VE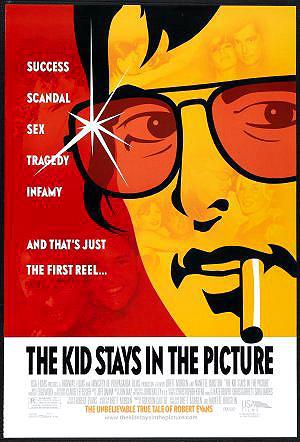 FICHA TÉCNICA:
Episode aired
2002, 23 de Enero de 2004 (España)
Director:
Brett Morgen, Nanette Burstein
Guionistas:
Brett Morgen (Libro: Robert Evans)
Stars:
Robert Evans, Eddie Albert, Peter Bart, ETC…
Fotografía:
John Bailey
Música:
Jeff Danna
Productora:
USA Films
Duración:
91 min.
País:
EE.UU
SINOPSIS:
Este documental captura la historia de vida del legendario productor y jefe de estudio de Hollywood, Robert Evans. El primer actor en dirigir un estudio de cine, la carrera cinematográfica de Robert Evans comenzó en 1956, junto a la piscina del Hotel Beverly Hills. Su buena apariencia, encanto y confianza abrumadora capturaron la atención de la leyenda de la pantalla Norma Shearer, quien le ofreció un papel en el cine. Después de una carrera glamorosa, pero de corta duración, como estrella de cine, Evans intentó producir. A la edad de 34 años, sin créditos de producción a su nombre, consiguió un trabajo como jefe de producción en Paramount Pictures. Evans dirigió el estudio de 1966 a 1974. Durante su mandato, fue responsable de películas tan revolucionarias como El padrino, El bebé de Rosemary, Historia de amor, La extraña pareja, Harold y Maude y Chinatown. A principios de los 80, el Golden Boy de Hollywood estaba perdiendo su brillo. Después de un matrimonio fallido con Ali MacGraw, una redada de cocaína y una supuesta participación en el asesinato del Cotton Club, desapareció casi en la oscuridad. Solo a través de ...
(Escrito por Sujit R. Varma,IMDB)
Documental basado en la autobiografía (de mismo título) del famoso productor de la Paramount Robert Evans, controvertido personaje nacido en Nueva York en 1930 y productor entre otros títulos de: True Grit (1969), "Chinatown" (1974), "Marathon Man" (1976), "The Cotton Club" (1984), "Jade" (1995) o "How to Lose a Guy in 10 Days" (2003). Éxito, escándalos, sexo, tragedia e infamia en un personal retrato de Hollywood en el que aparecen famosos del mundo del cine americano como Francis Ford Coppola, Roman Polanski, Paul Newman o Dustin Hoffman.
(FILMAFFINITY)
El Libro
El libro narra el ascenso de Evans desde la infancia a estrella de radio, estrella de cine, jefe de producción de Paramount Pictures y productor independiente, su matrimonio con Ali MacGraw, su caída, incluida su redada de cocaína en 1980 y su implicación en el asesinato de Roy Radin, también conocido como "The Cotton". Club Murder ", su destierro de Paramount Pictures y su regreso al estudio a principios de los noventa.
La versión del audiolibro fue leída por el mismo Evans, con adiciones (presumiblemente improvisadas).
Una edición revisada del libro, publicada en 1995, agrega varios capítulos de material nuevo,
incluido material sobre sus proyectos después de su regreso a Paramount Pictures.
Película
La versión cinematográfica, lanzada en 2002, utiliza la narración de Evans intercalada principalmente con fotografías de la vida de Evans, así como breves secuencias de películas como Love Story, The Sun Also Rises, Rosemary's Baby, Chinatown y The Godfather, junto con entrevistas. para contar la historia desde su descubrimiento por Norma Shearer para Man of a Thousand Faces (1957) hasta su regreso a Paramount Pictures.
Según el comentario de los directores Burstein y Morgen en el DVD, muchos elementos del libro, como la infancia de Evans y sus otros matrimonios (la película se centra solo en su matrimonio con Ali MacGraw), se eliminaron porque sentían que no se movían. la historia a lo largo.
(Wikipedia)
CAST:
Complete credited cast:
Robert Evans ... Narrator
Rest of cast listed alphabetically:
Eddie Albert ... Self (archive footage)
Peter Bart ... Self (archive footage)
Charlie Bluhdorn ... Self (archive footage)
William Castle ... Self (archive footage)
Francis Ford Coppola ... Self (archive footage)
Catherine Deneuve ... Self (archive footage)
Charles Evans ... Self (archive footage)
Josh Evans ... Self (archive footage) (as Joshua Evans)
Mia Farrow ... Self (archive footage)
Errol Flynn ... Self (archive footage)
Ava Gardner ... Self (archive footage)
Karen Greenberger ... Self (archive footage)
Ernest Hemingway ... Self (archive footage)
Arthur Hiller ... Self (archive footage)
Henry Kissinger ... Self (archive footage)
Ali MacGraw ... Self (archive footage)
Steve McQueen ... Self (archive footage)
Edward R. Murrow ... Self (archive footage)
Jack Nicholson ... Self (archive footage)
Roman Polanski ... Self (archive footage)
Tyrone Power ... Self (archive footage)
Mario Puzo ... Self (archive footage)
Roy Radin ... Self (archive footage)
Norma Shearer ... Self (archive footage)
Dinah Shore ... Self (archive footage)
Frank Sinatra ... Self (archive footage)
David Susskind ... Self (archive footage)
Irving Thalberg ... Self (archive footage)
Darryl F. Zanuck ... Self (archive footage)
Steve Allen ... Self (archive footage) (uncredited)
Ursula Andress ... Self (archive footage) (uncredited)
Warren Beatty ... Self (archive footage) (uncredited)
Carol Burnett ... Self (archive footage) (uncredited)
James Cagney ... Self (archive footage) (uncredited)
John Cassavetes ... Self (archive footage) (uncredited)
Carol Channing ... Self (archive footage) (uncredited)
James Coburn ... Self (archive footage) (uncredited)
Angie Dickinson ... Self (archive footage) (uncredited)
Mike Douglas ... Self (archive footage) (uncredited)
Faye Dunaway ... Self (archive footage) (uncredited)
Peter Falk ... Self (archive footage) (uncredited)
Richard Gere ... Self (archive footage) (uncredited)
Ruth Gordon ... Self (archive footage) (uncredited)
Gene Hackman ... Self (archive footage) (uncredited)
Dustin Hoffman ... Self (archive footage) (uncredited)
Bob Hope ... Self (archive footage) (uncredited)
Olivia Hussey ... Self (archive footage) (uncredited)
Walter Matthau ... Self (archive footage) (uncredited)
Paul Newman ... Self (archive footage) (uncredited)
Richard Nixon ... Self (archive footage) (uncredited)
Ryan O'Neal ... Self (archive footage) (uncredited)
Laurence Olivier ... Self (archive footage) (uncredited)
Dana Plato ... Self (archive footage) (uncredited)
Robert Shapiro ... Self (archive footage) (uncredited)
Robert Towne ... Self (archive footage) (uncredited)
Kathleen Turner ... Self (archive footage) (uncredited)
Chris Wallace ... Self (archive footage) (uncredited)
Raquel Welch ... Self (archive footage) (uncredited)
Leonard Whiting ... Self (archive footage) (uncredited)
Richard Widmark ... Self (archive footage) (uncredited)
Debra Winger ... Self (archive footage) (uncredited)
CAPTURAS:
C.D.B.

El chico que conquisto Hollywood 2002 DVDRip VE
2, 36 GB
DATOS TÉCNICOS:
Datos sobre el ripeo
Fuente.....:
DVDRip VE
Tamaño.....:
2,36 GB
Duración......:
1:29:40
Video Codec..:
mp4
Velocidad de datos::
3445 KBPS
Velocidad Bits:
3675 Kbps
Canales::
2
Velocidad de muestra de sonido
48 khz
Velocidad de fotograma
25 fotogxseg
Velocidad de Bits de sonido
319 KBPS
Resolución...:
1024x576
Idiomas del Audio:
Castellano